Partner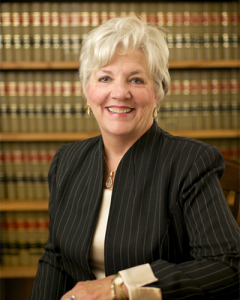 Catherine Holland Petersen – Petersen, Henson, Meadows, Pecore & Peot, P.C.Catherine (Kit) Holland Petersen is a partner at Petersen, Henson, Meadows, Pecore & Peot, P.C. The firm restricts its practice to domestic relations which includes family law, adoption, and mediation. Ms. Petersen has practiced family law since 1976, and has been a certified mediator for more than 25 years. She now limits her practice to family law mediation. She is a Fellow of the American Academy of Matrimonial Lawyers and has served on its Board of Governors as well as in the capacity of President of the Oklahoma Chapter. Petersen is also a member of the Oklahoma Bar Association Family Law Section and is a past chair.
Ms. Petersen has served on several national uniform law committees which draft nationwide legislation in family law. She chaired the original committee that drafted the Oklahoma Child Support Guidelines.
In her impressive career, Petersen has been named Outstanding Family Law Attorney in Oklahoma in 1988 and has made the list of the Best Lawyers in America every year since 1995, as published by Woodward/White, Inc. She is listed as a preeminent attorney by Martindale-Hubbel. She is also an Oklahoma Superlawyer, made Superlawyers 2016 and is named in the Who's Who in America, Who's Who in American Law and Who's Who in American Women. In addition to her own awards, the firm of Petersen, Henson, Meadows, Pecore & Peot, P.C. has been named a Tier One law firm by US News and World Report.
Petersen has authored articles for The Advocate published by the American Bar Association, Fairshare, The Oklahoma Bar Journal, and The Oklahoma Family Law Journal. She is a frequent lecturer throughout the country, presenting Continuing Legal Education focused on family law issues. Beginning 1995 through the present, she serves on the faculty of the American Bar Association Family Law Section's Trial Advocacy Institute, a joint program with the National Institute of Trial Advocacy, which takes place in Colorado each year.
Petersen also has her own company selling homemade, natural jelly from her rural home in Cleveland County when she is not spending time with her grandchildren.